Caravanning for the Vote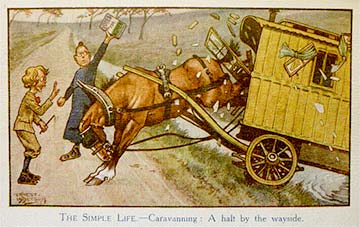 'The Simple Life' - Caravanning: a halt by the wayside',
comic postcard, Ernest Ibbetson. Author image collection.
From May 1908, intrepid suffrage vanners set out into the countryside, their tours yet one more imaginative propaganda vehicle. Before long, 'Votes for Women' caravans had entered the public mind - inspiring a comic postcard. Here, a suffragette in sandals waves a copy of Votes for Women (in WSPU colours) at her wayward horse.
Suffragettes may not really have evaded the census by floating up and away in a basket suspended under a balloon. But they did evade by caravan. Probably the most intrepid was Lillian Dove-Willcox - who apparently headed out from Bristol into the Wiltshire countryside by van, making for remote Salisbury Plain. Lillian was determined to evade officialdom and to leave no census trace. However, a schedule was completed for her - at the local town hall, on the authority of a top civil servant.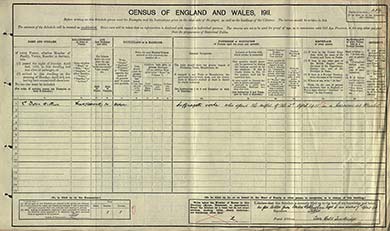 The census schedule of Lillian Dove-Willcox, evading in a 2-roomed
caravan in rural Wiltshire. The National Archives.
Click image to enlarge.
Back in Bristol, WSPU organiser Annie Kenney gave a press interview. She conjured up a caravan, decorated with a 'No Vote, No Census' poster. And Annie added: some local suffragettes spent the night 'in this ark of refuge from the flood of census questions', even 'taking a drive in the night air over the [Clifton] Suspension Bridge'. It has not proved easy however to identify this particular suffragette 'ark'.
More traceable were the gypsy caravans spotted in central London by journalist Henry Nevinson. They were 'driven by women, who whispered me the names of woodland regions' in nearby Surrey - before vanishing silently down the road. Indeed, the Daily Sketch front page was devoted to photographs - of three caravans and at least ten chilly evaders on Wimbledon Common.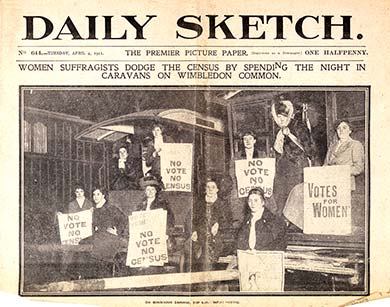 Daily Sketch, Tuesday 4 April 1911, Wimbledon Commom, 2.30am.
Mary Howey mss, Museum of London. The National Archives.
Click image to enlarge.