February 2017
Emmeline Pankhurst and the suffragette census boycott across Calderdale.
20 Monday: Hebden Bridge Town Hall, Waterfront Hall ~ 7.30pm.
On census night, 2 April 1911, suffragettes urged women, all still disenfranchised, to boycott the government's census. Some did, hiding away in darkened rooms to evade the enumerator. Other women disagreed with this civil disobedience tactic, preferring to provide census information that could be used for the Liberal government's health and welfare reforms. Suffragette leader Emmeline Pankhurst came up and spoke to a packed meeting in Halifax, urging women to boycott. So how did Hebden Bridge and Halifax respond on census night?
Tickets: £4 on the door (for non-WI members). Everyone welcome
Suffrage bookstall: provided by the Book Case.
Organizers: Hebden Bridge WI.
Includes tea & WI cake.
Further details: www.hebdenbridgewi.com
---
March 2017
Rebels in the Archives
8 Wednesday: 7pm-8.45. British Library Knowledge Centre Theatre, Euston Road, London NW1 2DB.
Panel discussion, chaired by Margaretta Jolly, Sussex University; Abi Morgan, scriptwriter, Suffragette film; Heidi Safia Mirza, adviser on Diversity to English Heritage; & Deborah Withers, author of book on Feminism and Digital Culture.
Tickets: £8 & £5 ~ boxoffice@bl.uk & 01937 546546.
Stalls: provided by Newham Bookshop & the Feminist Library.
Food and drink: available from the bar 6pm ~ 10pm.
---
April 2017
Walking with Women's Suffrage
9 Sunday: 2.30 pm. Huddersfield: meet at St George's Square (by Harold Wilson statue), in front of Huddersfield station.
In 1906, the nation's eyes were trained on Huddersfield. Emmeline Pankhurst swept into town and addressed massive crowds. Join historian Jill Liddington to walk in the footsteps of local suffragettes. Jill's latest book, Vanishing for the Vote, tells the story of the suffragette boycott of the 1911 census.
Charge: £3; no booking required.
Walk: lasts 1.5-2 hours.
Organizers: Discover Huddersfield: guided walks ~ www.discoverhuddersfield.com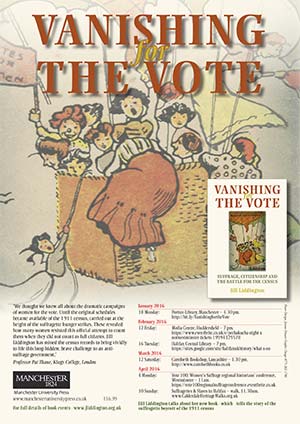 ---
Summer highlights:
Leeds Suffrage Story
Saturday 3 June: Isabella Ford, Mary Gawthorpe & Leonora Cohen. Ford-Maguire Society, Swarthmore Centre, Leeds.
Suffragettes and Slaves in Halifax
Sunday 18 June: walk, 11.30 am.
Mapping Women's Suffrage

June: ~ The National Archives, Kew.
---
Recent Talks: 2014 to 2016