June 2017
3 Saturday: Leeds Suffrage Stories - 10am-4pm.
Leeds: Swarthmore Education Centre, Woodhouse Square.
Come and hear the story of Leeds' Votes for Women campaigners ~ suffragist Isabella Ford plus suffragettes Mary Gawthorpe and Leonora Cohen - to inspire plans for Vote 100 celebrations next year.
This event celebrates the centenary of the historic Leeds Convention, 3 June 1917, pledging solidarity with the Russian Revolution.
Other speakers include Michael Meadowcroft and Janet Douglas, plus music by Dave Rovics in the evening.
Organizers: the Ford-Maguire Society & Leeds Trades Council.
Booking: free entrance; no advance booking necessary.
Website: https://ford-maguire.co.uk/
---
18 Sunday: Walking with Suffragettes and Slaves in Halifax - 11.30am - 3.30pm, £3.
Visit the homes of Halifax's own nest of suffragettes. From Savile Park, walk along Queen's Road and down Pellon Lane to the Mechanics' Institute. Here, in front of a packed audience, Emmeline Pankhurst urged women, all still voteless, to boycott the 1911 census.
Meet at: the Standard of Freedom pub, Skircoat Green, HX3 0TE.
Bring: snack lunch. We return to start by local bus.
Organizers: Calderdale Heritage Walks 
---
24 Saturday: Mapping Women's Suffrage
- 2pm-3.30.
Other speakers: Elizabeth Crawford and Tara Morton.
The Mapping Women's Suffrage project pinpoints the location of suffrage campaigners right across England in 1911. Census data is supplemented by brief biographies, plus photographs of campaigners and their houses. This exciting interactive digital project offers a snapshot in time, 1911 ~ a compelling moment in suffrage history. It will be launched in 2018, as part of the Vote 100 suffrage centenary celebrations.
The talk offers a preview, focussing on a pilot project in Coventry & surrounding Warwickshire. It ends with Q&A + interactive map session.
Location: National Archives, Bessant Dr, Kew, TW9 4DU.
Charge: free.
Book tickets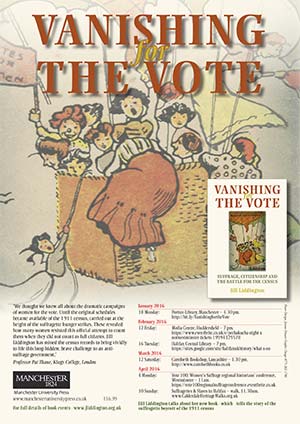 ---
Autumn/winter highlights:
September - Walking with suffrage artist Florence Lockwood ~ from Huddersfield up Colne Valley.
November - Discovering Collections, Discovering Communities: conference. The Lowry, Salford.
2018: Centenary Celebrations include:
February - Vote 100 conference, Cambridge. To commemorate the centenary of the Bill enfranchising women over 30.
March - One Hand Tied Behind Us (1978), publication of the French edition.
---
Recent Talks: 2014 to 2016