September 2017
9 Saturday: Walking with women's suffrage in the Colne Valley ~ 11.30 am.
Florence Lockwood, a student at the Slade school of art in the 1880s, married a local mill-owner and moved up to Black Rock House, Linthwaite. In 1907, the Votes for Women campaign suddenly burst in on her isolated world. Emmeline Pankhurst spoke at the tumultuous Colne Valley by-election, deeply impressing Florence. But instead of joining the Pankhursts' suffragettes, she opted for the constitutionalist suffragists in the NUWSS. Soon she was designing Huddersfield's memorable branch banner.
Walk in the footsteps of local suffragists and suffragettes. The five-mile route takes us past the home of Helen Studdard, Huddersfield NUWSS branch secretary, then descends to the canal towpath and continues to Milnsbridge - home of suffragette Elizabeth Pinnance, imprisoned in Holloway in 1907 for 14 days. The rooute, passing the mills that are reminders of Huddersfield's industrial past, takes us up to Florence Lockwood's Linthwaite and to Black Rock.
The walk includes contributions from Cyril Pearce, Chair of Huddersfield Local History Society. It ends in Slaithwaite around 3.30, with a Q&A session at Vanilla Bean ~ then bus or train back to Huddersfield.
Meet at: Harold Wilson's statue, St George's Square, Huddersfield HD1 1LG.
Bring: packed lunch plus snacks. Walking shoes or boots advisable; the route includes a descent of 119 stone steps.
Booking: no booking required.
Organizers: .Kirklees Heritage Open Days & Discover Huddersfield
30 Saturday: Walking Watling Street,
Kendal, 7.30pm.
Come and watch a moving dance performance of the great 1913 Suffrage Pilgrimage by Aboutime Dance Company. Walking Watling Street follows the suffragist pilgrims on their route from Carlisle down to London. The Pilgrimage, engaging 100,000 women along the way, was a particularly imaginative suffrage tactic.
After the performance, Jill Liddington will suggest how the Pilgrimage proved to be highly effective propaganda for winning Votes for Women.
Venue: Brewery Arts Centre, Kendal ~ About Journey Dance Festival.
Booking: £15 per ticket (£12.50, under 16) - 01539 725133.
---
November 2017
17 Friday: Celebrating the Centenary: Votes for Women campaigners across Yorkshire - York, 7pm.
As Vote 100 celebrations approach, Jill Liddington looks at a wide sweep of suffragists and suffragettes across Yorkshire ~ including a special focus on the city of York itself. She asks: what did win the vote for women over 30 in 1918?
Venue: Clements Hall, Nunthorpe Road, York YO23 1BW. Ten minutes' walk from York station.
Organizers: Clement Hall Local History Group.
Enquiries: enquiries@clementshall.org.uk
Tel: 01904 466086
Booking: £3 on the door (non-members); £1 (members) everyone welcome. Suffrage bookstall. Bar and refreshments.
---
January 2018
20 Saturday: Celebrating the Centenary: Votes for Women campaigning across the Pennines - Saddleworth, 2.30pm.
The story is well known of suffragette Annie Kenney who grew up on the Saddleworth-Oldham border. So who else campaigned for Votes for Women locally? And what tactics did they deploy: suffragette militancy or suffragist constitutional methods?
Jill Liddington follows a route up from Manchester to Saddleworth, over the Pennines and down towards Huddersfield. She looks at banner-maker Florence Lockwood & Elizabeth Pinnance, campaigning in Colne Valley. And at Hannah Mitchell and Marjory Lees, living along the Oldham Road. Working-class Hannah wrote a classic suffragette, autobiography, The Hard Way Up; while suffragist Marjory of Werneth Park joined the great 1913 Suffrage Pilgrimage to London ~ in a horse-drawn caravan.
Jill's talk ends with Vote 100 plans to 'Celebrate the Century' of women over 30 winning in 1918 ~ at long last!
Venue: Saddleworth Museum, High Street, Uppermill, Saddleworth OL3 6HS. Suffrage bookstall:
Booking: £3 (non-members), free to members. All welcome.
---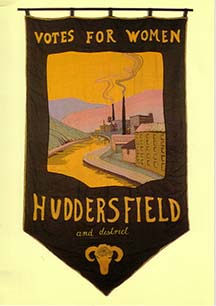 ---
February 2018
3 Saturday: Conference on Suffrage & Political Activism - Cambridge.
This Vote 100 conference commemorates the centenary of the 1918 Representation of the People Bill, which enfranchised women over 30. Speakers include Jill Liddington, Sheila Rowbotham and Elizabeth Crawford.
Venue: Murray Edwards College, Cambridge.
Organizers: Girton College, Cambridge; Muray Edwards College, Cambridge; the Labour History Research Unit; Anglia Ruskin University; and the University of Cambridge Library.
For further details: suffrage@hist.cam.ac.uk
---
March 2018
w/b 26 Monday:
One Hand Tied Behind Us: the rise of the women's suffrage movement (1978, 1984, 2000), publication of French edition.
Further details to follow - of events in Paris & elsewhere in France during this week.
---
September 2018

31 Fri ~ 2 Sun:
WHN Conference - The Campaign for Women's Suffrage: national & international perspectives.
Venue: University of Portsmouth.
Organizers: Women's History Network. Further details to follow.

15 Saturday:
Walking with women's suffrage in the Colne Valley ~ 5 mile walk, meet at Huddersfeld station [t.b.c.]

11 Tues - 19 Wed:
Road Scholar suffrage conference, Lucy Cavendish College, Cambridge.
Further information: to follow. Programme # 23142 & (if UK resident) choose program-only option.

Website: www.roadscholar.org
---
Recent Talks: 2014 to 2016