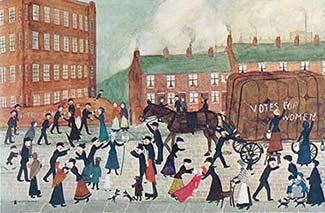 Votes for Women campaigners around Oldham.
Click image to enlarge
September 2018
15 Saturday~Walking with women's suffrage up the Colne Valley ~ 11.30am.
From Huddersfield station, walk in the footsteps of local suffragists and suffragettes. This five-mile route along the canal towpath takes us past Linthwaite ~ home of artist and suffragist Florence Lockwood, who designed Huddersfield's beautiful NUWSS banner
Please bring picnic lunch & snacks. Route includes steep descent down stone steps. Towpath may be muddy. Tea & cake in Slaithwaite at end.
Meeting point: Harold Wilson's statue, St George's Square, Huddersfield station HD1 1LG.
Booking: free for Heritage Open Days, but booking essential through Huddersfield Library, Email or 01484 223200. Booking will open on 15 August.
Organizers: Discover Huddersfield, www.discoverhuddersfield.com
---
19 Wednesday - Preston (UCLan & Harris Museum)
Telling the stories of local suffragette Edith Rigby, and of radical suffragist Selina Cooper of Nelson. In midsummer 1913, the WSPU's arson campaign included Edith's burning down a local house; this contrasted vividly with the suffragists' great Pilgrimage down to London. Which propaganda tactic was more effective in 'getting Asquith's ear'?
---
Votes for Women exhibitions:
Halifax: Laura Annie Willson MBE: suffragette, engineer, house-builder. 
In September, I was delighted to open this exhibition about remarkable Annie Willson. The Industrial Museum, run by an impressive team of volunteers (many of them engineers), is open on Saturdays 10am - 4pm. If you're visiting the Piece Hall, just drop down to the Museum (it's just above Halifax station).
Calderdale Industrial Museum, Square Road, Halifax HX1 1QG.
Entry: £5 (concessions £4, under 16s free). 01422 384721.  info@calderdaleindustrial.co.uk   For further details (eg parking) go to the website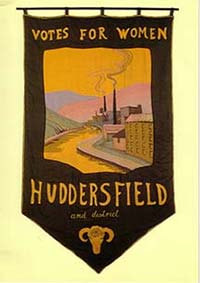 Huddersfield: Our Fight for the Voting Right!
A small but very impressive exhibition on the local suffragists and suffragettes who won Votes for Women in Huddersfield and the Colne Valley. It includes Florence Lockwood's magnificent suffrage banner. The exhibition continues through 2019.
Tolson Museum, Huddersfield HD5 8DJ. 01484 223240 see website - or email
---
October 2018
14 Sunday - How women won the vote in Halifax and beyond. 5-6pm.
In December 1918, women (or at least, women over 30) could go to the polls to elect their MP for the very first time. Votes for Women was won only after a long and bitter struggle. In Halifax, suffragettes had marched, endured prison, and boycotted the government's 1911 census. Among them was Laura Willson, a working-class girl who became a worsted weaver, & Mary Taylor, Poor Law Guardian and later magistrate ~ plus suffragist artist Florence Lockwood of Colne Valley.
This is the first ever Halifax Festival of Words! With Grayston Unity!
Venue: Corner Bookshop, 23-24 Rustic Level, Piece Hall, HX1 1RE.
Tickets: £3  See website. Talk + book signing.  Email  01422 414443.
Saturday 20 - Working-class Women winning the vote.  3.45-5.15 pm.
Despite the focus on the Pankhursts, working-class campaigners were always central to women over 30 winning the vote in 1918. In Manchester and the Lancashire cotton towns, radical suffragists like Selina Cooper led the way. In West Yorkshire, on the other hand, many working-class women - like Dora Thewlis and Mary Taylor - became suffragettes and went to prison.
Panel: 100 Years since the Representation of the People Act 1918.
Suffrage bookstall - books provided by News from Nowhere + signing
FiLiA, a feminist conference (20-21 Oct), Lighthouse Venue, 12 Centenary Park, Coronet Way, Eccles, Salford, Manchester M50 1RE.
For booking, conference programme, speakers & how to get there - www.filia.org.uk
---
November 2018
22 Thursday - Was the Women's Movement International?
The women's suffrage movement in Edwardian England was 'the storm-centre of warfare which waged from East to West'. Campaigners included both the Pankhursts' suffragettes & suffragists led by Mrs Fawcett. The International Woman Suffrage Alliance spanned the world. What was its link to the Greenham Women's Peace Camp in 1980s?
Other conference papers include: Arms and the Women: the Women's International League for Peace and Freedom [WILPF] 1945-75, Catia Confortini, Wellesley College, Boston.
Dismarming Women/Donne Disarmanti conference, University of Venice 22-23 November
Jill Liddington's recent talks: 2014 to 2018