September 2017
9 Saturday: Walking with women's suffrage in the Colne Valley ~ 11.30 am.
Florence Lockwood, a student at the Slade school of art in the 1880s, married a local mill-owner and moved up to Black Rock House, Linthwaite. In 1907, the Votes for Women campaign suddenly burst in on her isolated world. Emmeline Pankhurst spoke at the tumultuous Colne Valley by-election, deeply impressing Florence. But instead of joining the Pankhursts' suffragettes, she opted for the constitutionalist suffragists in the NUWSS. Soon she was designing Huddersfield's memorable branch banner.
Walk in the footsteps of local suffragists and suffragettes. The five-mile route takes us past the home of Helen Studdard, Huddersfield NUWSS branch secretary, then descends to the canal towpath and continues to Milnsbridge ~ home of suffragette Elizabeth Pinnance, imprisoned in Holloway in 1907 for 14 days. The rooute, passing the mills that are reminders of Huddersfield's industrial past, takes us up to Florence Lockwood's Linthwaite and to Black Rock.
The walk includes contributions from Cyril Pearce, Chair of Huddersfield Local History Society. It ends in Slaithwaite around 3.30, with a Q&A session at Vanilla Bean ~ then bus or train back to Huddersfield.
Meet at: Harold Wilson's statue, St George's Square, Huddersfield HD1 1LG.
Bring: packed lunch plus snacks. Walking shoes or boots advisable; the route includes a descent of 119 stone steps.
Booking: no booking required.
Organizers: .Kirklees Heritage Open Days & Discover Huddersfield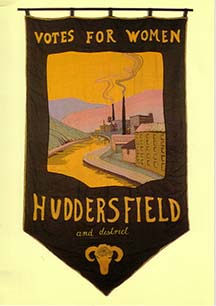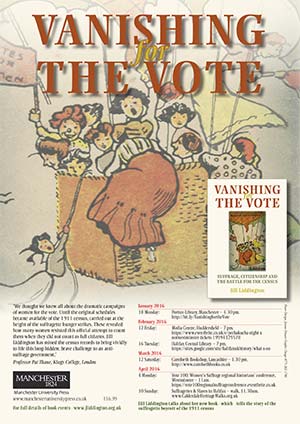 ---
Coming highlights:
2018: Centenary Celebrations include:
February - Vote 100 conference, Cambridge. To commemorate the centenary of the Bill enfranchising women over 30.
March - One Hand Tied Behind Us (1978), publication of the French edition.
---
Recent Talks: 2014 to 2016