Mass evasions
Most dramatic of census night boycotts were the mass evasions. Dozens of suffragettes - and in a few cities, hundreds - evaded the census together.
The best known and undoubtedly the largest was central London's mass evasion at the Aldwych skating rink, near the Strand. The diary written by journalist Henry Nevinson conjures up the excitement of the night (and provides a guide in Vanishing for the Vote chapter twelve). A photograph taken at 3.30am also captures the scene.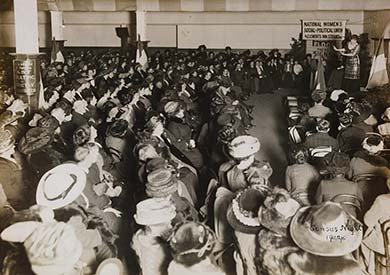 Aldwych Skating Rink, with actress Decima Moore.
Museum of London.Click image to enlarge.
In towns and cities up and down England, smaller mass evasions took place. One was in the suffrage stronghold of Bath, Somerset.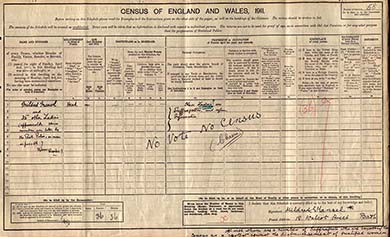 The census schedule of Mildred Mansel, 12 Lansdown Crescent,
Bath. The National Archives. Click image to enlarge.
Further north, Adela Pankhurst, Emmeline's youngest and least known daughter, had been busy in Sheffield. With fellow suffragette Helen Archdale, she coordinated a mass evasion at their own home.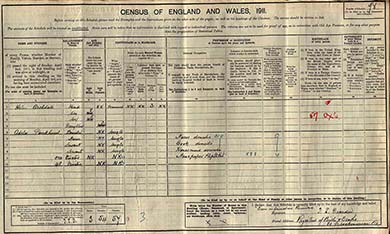 The census schedule of Adela Pankhurst and Helen Archdale schedule, Sheffield. The National Archives. Click image to enlarge.
An eye-witness account of Sheffield's mass evasion was written by a local press reporter. Hugging the city's deepest shadows, he made his way to 'the House of Conspiracy' where he came upon…
The more enterprising of local newspapers often carried a vivid report of mass evasions nearby. In Vanishing for the Vote, 'English Journey' (chapter 16) cites the Bradford and Portsmouth press, for instance.