16-year-old Huddersfield weaver Dora Thewlis on arrest was catapulted on to the tabloid front-pages as 'Baby Suffragette'. Her life was transformed.
Rejecting the deadening conventions of their Victorian elders, the rebel girls demanded new freedoms and new rights.
They took their suffrage message out to the remotest Yorkshire dales and fishing harbours, to win Edwardian hearts and minds.
The caravan tour started in Whitby in August 1908. Suffragists parked the van right by the water's edge, alongside fair booths and stalls. A picture poscard shows a Edwardian holiday crowd gathered round, curious to see a woman speaker in such a remote spot. From Whitby, the cart-horse plodded up into the high York Moors. At Goatland, the suffragists bravely held another open-air meeting, and then made their way out to the coast and seaside resorts like Scarborough.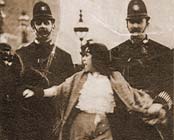 Dora Thewlis arrest, March 1907, was later turned into a picture postcard by Shamrock postcards. Click photo to enlarge it
Suffrage campaigners addressed great meetings in cities, towns and villages.
To publicize the demand for the vote, suffragists staged magnificent processions through London, their silken banners fluttering in the breeze.
For Herstoria magazine (autumn 2009) go to Walking with suffrage in Huddersfield - an illustrated walk round Dora Thewlis's Huddersfield and along Florence Lockwood's Colme Valley.
Later, dancer Lilian Lenton waited till her twenty-first birthday - then determined to burn two buildings a week until the Liberal government granted women the vote.
Go to Radio 4 Woman's Hour page and listen to a rivetting interview recorded with Lilian shortly before she died.


Rebel Girls shows how this daring campaigning shifted from community suffragettes to militant mavericks, like Leonora Cohen of Leeds. Leonora, who died in 1978 aged 105, lived long enough to see new fascination with suffrage history.

Regular terrors - review of Rebel Girls by Alison Light published in the London Review of Books (Jan 2007)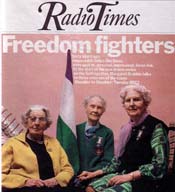 Leonora Cohen, aged 100, on front cover of Radio Times, 1974, for BBC TV drama Shoulder to Shoulder. Click photo to enlarge it