What did Anne Lister do - in 1832?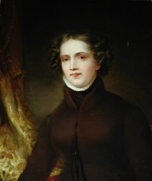 Nature's Domain (2003) tells the Anne Lister story from April to December 1832, as she returns home from her exotic travels. One by one, her women friends had married. Some relationships had been mere flirtations. More tragically, with a few Anne had planned a permanent romantic union. Now she has just been bitterly betrayed once again ~ by another woman's marriage plans.
Photo: Shibden Hall, Calderdale Museums
May 1832
Anne Lister made her forlorn way back home to Halifax, to her dispiriting family: her elderly father, aunt and her inconvenient sister. And back to ancient Shibden Hall - which she now found old-fashioned and threadbare. Aged forty-one, Anne Lister knew her romantic youth was over. So many of her female friends had married and settled.
Back home, she held melancholy spirits at bay with reading. She spent long solitary hours in Shibden's well-stocked library. Intellectually adventurous, her taste was for cutting-edge books. What was newest? Charles Darwin had just set sail in the Beagle. Although women were of course excluded from universities, Anne kept up with the latest geology literature. She even had her own mineral collection.  And she had just read about the origin of each species and why they became extinct (this she judged grudgingly as merely 'fav[oura]ble – interesting enough'). But Anne was of course a devout Anglican; so she also read The Sacred History of the World on Creation and the Flood. How did the world start?
Landscape of Desire
With her indomitable will, she soon renewed her energies. She would turn herself from the old Anne Lister into the new. She would remodel herself: from traveller and high-society flirt into commanding landowner of Shibden Hall's ancient acres.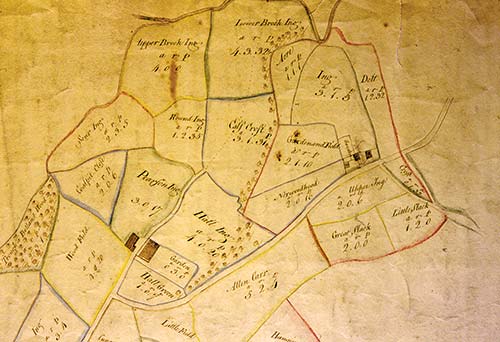 Map of Shibden Hall estate belonging to James Lister, 1791
(reference SH:2/M/1/2/2) West Yorkshire Archive Service, Calderdale
First, she would re-shape the landscape of her estate, moulding nature to her own powerful desires. Inspired by her travels and by her reading,  she determined Shibden would look elegant. With a shorter purse than her grand friends, she started by re-designing the section of the estate immediately visible from the Hall: a patchwork of pocket-handkerchief fields sloping down 400 yards to a small brook. The land was boggy, Red Beck liable to flooding: it must be controlled. Shibden must become the landscape of her desire. She would have a new walk made, with a chaumiere or 'moss house'.
As good as a marriage
Jane Austen's Pride and Prejudice was published in 1813. Two decades later, Anne Lister could well have subtly adapted its unforgettable opening: 'It is a truth universally acknowledged that a single woman in need of a good fortune must be in want of a wife'.
Anne Lister had returned home empty-handed. And she was now saddled with a predatory reputation among women in her elite social circle. She confided in her diary in code how one York friend said people gave her 'the appellation…of tuft-hunter'. Any new relationship would not be easy.
However Shibden, hidden from view by the steep hillside above bustling Halifax, provided a safer rural space. And in July, a chance re-acquaintance with neighbouring heiress Ann Walker of Crow Nest estate in rural Lightcliffe changed Anne Lister's life forever.
Ann Walker was wealthy, initially through her family's worsted manufacturing, and then through tragedy: first her parents died, then her brother. Ann became heiress to a small fortune - though not money that made her happy.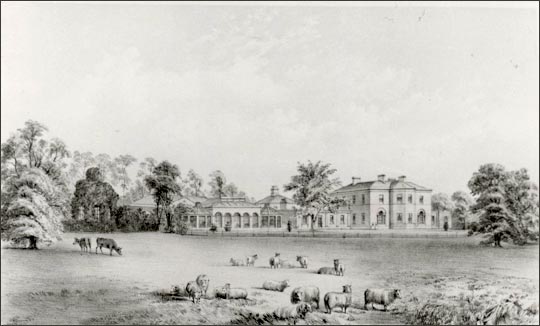 Crow Nest from the south west,
Stott brothers, Calderdale Libraries

Friendship with Anne Lister could introduce lonely Ann Walker into society beyond her family's mercantile origins. Deft courtship by Anne Lister of Shibden Hall was extremely flattering: it also proved enthralling. Seduction soon followed, the secluded moss-hut providing a conveniently intimate female space.
Ann Walker had moved out of imposing Crow Nest into Lidgate, a house on the estate. The Walkers had married into other elite Halifax families ~ so Ann had an inconvenient number of cousins. Many of them ~ such as the Rawsons ~ knew Anne Lister of old. Yet they had no polite language for Anne's Lister's predatory reputation with which to alert gullible Ann Walker (though she did receive anonymous letters). She was torn between complying with her suitor and her own religious torments. Anne Lister, staunchly Anglican, knew her sexuality was natural and God-given. Ann Walker shared this Anglican faith, but was wracked by torturing scruples. Anne Lister was strong: Ann Walker was weak. How would the courtship develop? On Thursday 27 September, Anne Lister confided in her diary that Ann Walker had always been told by relatives like the Rawsons that:
I was not to be depended on ~ I successfully parried this - & she believes me…. I now really believe she will go [abroad] with me! She seems to take all I say for gospel… [She] said she was sure people [cousins] never meant us to get together - that Mrs Stansfield Rawson looked odd at finding me [at Lidgate]…
I really did feel rather in love with her in the [moss] hut, & as we returned. I shall pay due court for the next few months… We laughed at the idea of the talk of our going abroad together would [stir]. She said it would be as good as marriage. 'Yes', said [I], 'quite as good or better'….
We shall have money enough. She will look up to me… I can gently mould Miss W- to my wishes... How strange the fate of things! If after all, my companion for life should be Miss Walker - she was nine-and-twenty a little while ago!  How little my aunt or anyone suspects what I am about!
Power and influence 
1832 ended with political frenzy. The Reform Act had just given the vote to more adult men owning or renting property. And some of these voting tenants lived on Shibden estate. Anne Lister, like other women landowners, might be explicitly excluded from voting by this new Act. But - with no secret ballot yet - that did not stop her from exerting political influence at December's General Election. Anne Lister's Tory certainties hardened: she became a true 'Blue'.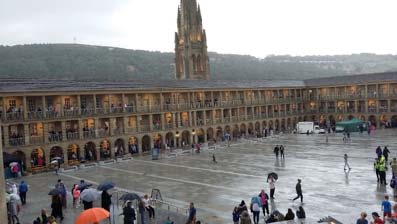 Photo: Piece Hall, opened 1779; then as now, a highly significant public space in Halifax.
At the foot of the hillside hiding Shibden from view, the magnificent Halifax Piece Hall provided the public space for great Election meetings. Women were of course excluded. Anne Lister had to content herself with reports from the town brought up to her by her manservant about 'the shew of hands today' by electors assembled in the Piece Hall, in favour of particular candidates. But such exclusion did not deter her from coercing her enfranchised tenants to vote for the 'Blue' candidate. Elite families around Halifax had to stick together - in the face of Whig and Radical threats. That was most important.
New Year's Eve 1832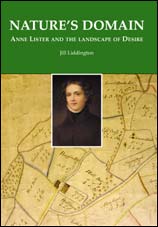 By the end of the year, Anne Lister had come into her own. She knew how to wield her new power effectively, sometimes with devastating effect. And she had achieved three of her goals. She had redesigned Shibden into a 'landscape of desire'. At the Election, her 'Blue' candidate may have lost, but Anne Lister had proved herself a crucial political ally to other elite families. And she had wooed and seduced her wealthy neighbour. The talk might be of 'as good as a marriage', but  Ann Walker still vacillated, both women parting in tears. Anne Lister ended 1832 by confiding to her diary: 'Who will be the next tenant of my heart? Providence orders all things wisely'.
Nature's Domain (Pennine Pens, 2003) inspired the early episodes of Sally Wainwright's new BBC1 drama series, Gentleman Jack, to be broadcast in spring 2019.
Coming soon: Was Anne Lister really the first modern lesbian?