About Jill Liddington
I am a writer and historian. My main research interest lies with women's history ~ most especially the Votes for Women story. I've always been fascinated by discovering the history of forgotten suffragists and suffragettes, wherever they lived. Indeed, 'Votes for Women - everywhere!'
Back to 1974
Four decades ago, like so many other young feminists then, I was gripped by BBC1's suffrage drama series Shoulder to Shoulder (spring 1974). I sat in my London flat, mesmerized - watching horrified the hunger-strikes by suffragettes like Sylvia Pankhurst.
Telling the Yorkshire story
In 1980, I moved across the Pennines to Halifax. However I quickly found that tracking suffrage history across the sprawling Yorkshire region was far more challenging. I learnt that Leeds' most celebrated suffragette, Leonora Cohen, had died aged 105 - just two years earlier. Dispirited, I turned to other things - like earning a living. Who is Anne Lister
So it was only much later that I could piece together sufficient evidence to write Rebel Girls: their fight for the vote (Virago 2006). It tracks the story of campaigners who took their suffrage message out across the three Yorkshire Ridings ~ to the remotest dales and fishing harbours. Rebel Girls told of both suffragists like Isabella Ford, and suffragettes like Mary Gawthorpe.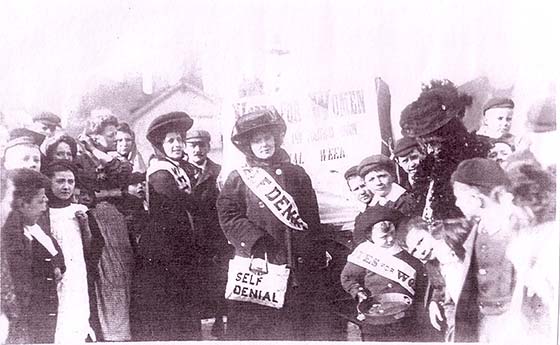 Mary Gawthorpe, Leeds 1908. Tamiment Library, New York University
Writing and teaching history
In the early Women's Movement, Sheila Rowbotham was the feminist historian who originally inspired me (Hidden from History, 1973). Once in Oldham, like Sheila I funded time for research by teaching day release students at the local college. I also began devising Women's Studies and Women's History courses, teaching them through the WEA and Manchester University extra-mural department. Teaching fed into writing and vice versa, a creative way of making a living, albeit highly insecure.
So, after I moved across to West Yorkshire, I was delighted to be appointed in 1982 to Leeds University's Extra-Mural Department. It had an illustrious history, the platform from which Edward Thompson wrote his classic The Making of the English Working Class (1963).
Extra-mural adult education, teaching off-campus in centres across West Yorkshire, suited me just fine. I started off organizing community education classes, then shifted to teaching New Opportunities for Women and Access courses; then Local and Regional History plus Votes for Women modules, all designed for adults studying for part-time degrees.
Adult education never stayed still, as the various departmental name changes testify. I stayed on, in what became the School of Continuing Education - where I was appointed Reader in Gender History. Then, after Leeds University closed us down in 2005 (yes, it felt like a tragedy), I moved to the Centre for Interdisciplinary Gender Studies [CIGS], which provided a welcoming home - and where I remain an Honorary Research Fellow.
Landscape: history, politics, walking
Wider audiences, new platforms
As 2018 approached, I was frequently asked 'Are you writing a new book?' No, but I'm enjoying working collaboratively to present Votes for Women in new ways - with people whose digital skills I can only marvel at: working with Chris at Pennine Pens who's produced my first eBook; Fabrice who's connected me to a French readership; and with Jon and Paul, editing podcasts of suffrage talks I've given. What do Women Do in Archives?   A couple of years ago, all this would have been unthinkable. Almost as unthinkable would a BBC drama series, scripted by Sally Wainwright, on Anne Lister - with global reach. What did Anne Lister do - in 1832?
Awards
: 1990,
The Long Road to Greenham
(Virago 1989) won the Fawcett Book Prize. 2008,
Rebel Girls: their fight for the Vote
(Virago 2006) was shortlisted for the Portico Book Prize. 2014,
Female Fortune: the Anne Lister Diaries 1833-36
(Rivers Oram Press 1998) was chosen by TV scriptwriter Sally Wainwright on
Desert Island Discs
as the book she wanted to take with her.
Anne Lister
.